How to Enroll a Grand Rapids Water Account in AutoPay
When you have a water account on grpayit, you can set up automatic payments for hands off, hassle free bill payments.
Users who enroll in water bill AutoPay will have their entire quarterly bill paid the day before it is due. Better yet, enrollees receive email reminders from grpayit before each payment for peace of mind, as well as a receipt after the payment has been processed.
With AutoPay, paying your bills has never been easier.
Ready to set up a water bill AutoPay for your own account?
See below to get started. Of course, if you don't have a grpayit account for your water bill yet, you'll first need to get that set up.
Create a grpayit account and link your water bill
Go to grpayit or download the app from your smartphone's app store and click on Continue to PayIt Login. Then, click Sign Up to create an account with your email address, or with your Apple, Google, or Facebook profiles.
After you sign in, click on the WaterBot to get started.
To locate your account

, search with your name and house number or with your account number. If you choose to search with the latter, be sure to include only the account number and omit the "WS."
Once you find and confirm your account, it will appear on your WaterBot dashboard.
Set up water bill AutoPay on
grpayit
To set up automatic payments for your water, click on WaterBot from the main dashboard, and then Set Up AutoPay.

From there, you will be prompted to read some details about how AutoPay works. After, you will need to choose a payment method. If you already have a payment method stored on your account, it will default to that.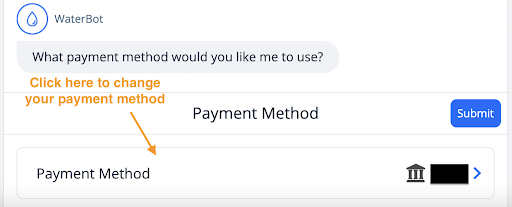 To change this payment method, click on the payment method and then Add Card or Link Bank Account. Otherwise, click on the blue Submit button.
Once you select a payment method, you will be enrolled in AutoPay. Click Super, thanks to return to your dashboard.
If you ever need to alter your AutoPay in any way, simply click on

Manage AutoPay

on your WaterBot dashboard. This will allow you to accomplish tasks such as changing your payment method.

Remember, once you're enrolled in water bill AutoPay for grpayit, you will receive emails both before and after automatic payments are processed, so keep an eye on your inbox.
If an automatic payment is ever unsuccessful for any reason, you will also receive a notification via email.
PayIt digital wallet is the safest way to manage and pay personal utilities.